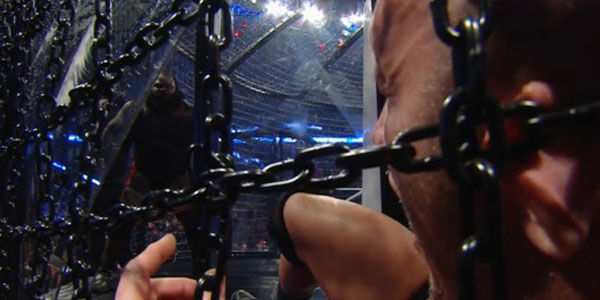 As we all know WWE revitalized the Elimination Chamber PPV for the month of May because WWE Network is free for new subscribers. Obviously, Payback was a bit of a drag so why not rebirth a PPV that was nixed a few years back.
The first match is a triple threat for the WWE Divas Title between Paige, Brie Bella, and Naomi. I hope Paige wins because she is Metro's best friend (I have photo proof). However, the smart money is on Brie Bella retaining. Her win will probably be due to a disqualification by Naomi for her hentch-woman, Tamina Snuka, interfering.
Next up is Neville vs. Bo Dallas. This feud seems a bit rushed. Bo Dallas has recently returned following a foot injury. Neville has had a tremendous push since he moved up from NXT and will easily beat Bo. If they want to stretch this storyline out for another month, watch for Bo to beat the shit out of Neville after the match and do a victory lap.
The Intercontinental Championship 6-Man Elimination Chamber Match is a bit tough to predict. There are so many intertwined feuds between Sheamus, Ziggler, and Rusev. R-Truth is a life long jobber so he's out. Ryback has a broken rib so he's out. Rusev get my pick due to the fact that he has had pitch perfect booking from day one. Having him move up the card from US Champ to IC Champ would get him that much closer to main eventing.
The Tag Team Championship 6-Tag Team Elimination Chamber is a new match never done before. I expect the New Day to retain. They have gained more and more momentum since they were crowned heel champs. I can't wait to see what kind of spots Cesaro & Kidd and the Lucha Dragons pull. I just hope the match isn't a 6-minute phone in like the 10 on 3 handicap match on Monday's Raw.
Cena vs. Owens for the United States Championship. John Cena will retain. Anything else just doesn't makes sense. You need one face champ in the company. Kevin Owens has a budding feud with #samoajoe #doff on NXT. It is interesting to have Kevin Owens make the transition so early to WWE. I guess he's just that red hot on NXT right now?
Dean Ambrose vs. Seth Rollins for the WWE Worl Championship. Unless the announce tonight or on Sunday that this match is a no-dq match, Rollins will retain by DQ due to interference by Kane and J&J Security. Hopefully there is a bad ass match beforehand. If Dean Ambrose doesn't qualify as the next Stone Cold, i don't know who does. Hopefully WWE Creative doesn't subdue his antics like they subdue every fucking other thing on the show.
Born Evil
-jr